Mustang P-51 Fighter WWII Airplane Model
The North American Aviation P-51 Mustang is an American long-range, single-seat fighter and fighter-bomber used during World War II and the Korean War, among other conflicts. The Mustang was designed in April 1940 by a design team headed by James Kindelberger of North American Aviation (NAA) in response to a requirement of the British Purchasing Commission. The Purchasing Commission approached North American Aviation to build Curtiss P-40 fighters under license for the Royal Air Force (RAF). Rather than build an old design from another company, North American Aviation proposed the design and production of a more modern fighter. The prototype NA-73X airframe was rolled out on 9 September 1940, 102 days after the contract was signed, and first flew on 26 October.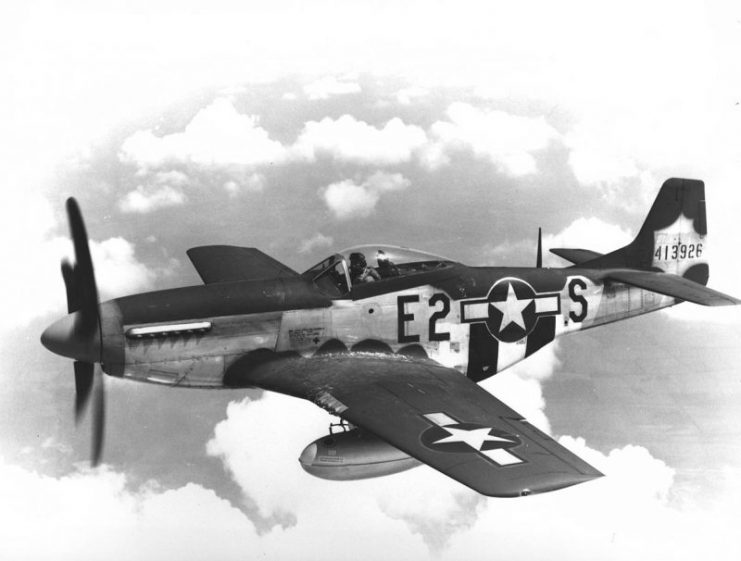 The Mustang was designed to use the Allison V-1710 engine, which had limited high-altitude performance in its earlier variants. The aircraft was first flown operationally by the Royal Air Force (RAF) as a tactical-reconnaissance aircraft and fighter-bomber (Mustang Mk I). Replacing the Allison with a Rolls-Royce Merlin resulted in the P-51B/C (Mustang Mk III) model and transformed the aircraft's performance at altitudes above 15,000 ft (4,600 m) (without sacrificing range), allowing it to compete with the Luftwaffe's fighters.[9] The definitive version, the P-51D, was powered by the Packard V-1650-7, a license-built version of the two-speed two-stage-supercharged Merlin 66, and was armed with six .50 caliber (12.7 mm) AN/M2 Browning machine guns.
From late 1943, P-51Bs and P-51Cs (supplemented by P-51Ds from mid-1944) were used by the USAAF's Eighth Air Force to escort bombers in raids over Germany, while the RAF's Second Tactical Air Force and the USAAF's Ninth Air Force used the Merlin-powered Mustangs as fighter-bombers, roles in which the Mustang helped ensure Allied air superiority in 1944.[11] The P-51 was also used by Allied air forces in the North African, Mediterranean, Italian and Pacific theatres. During World War II, Mustang pilots claimed to have destroyed 4,950 enemy aircraft.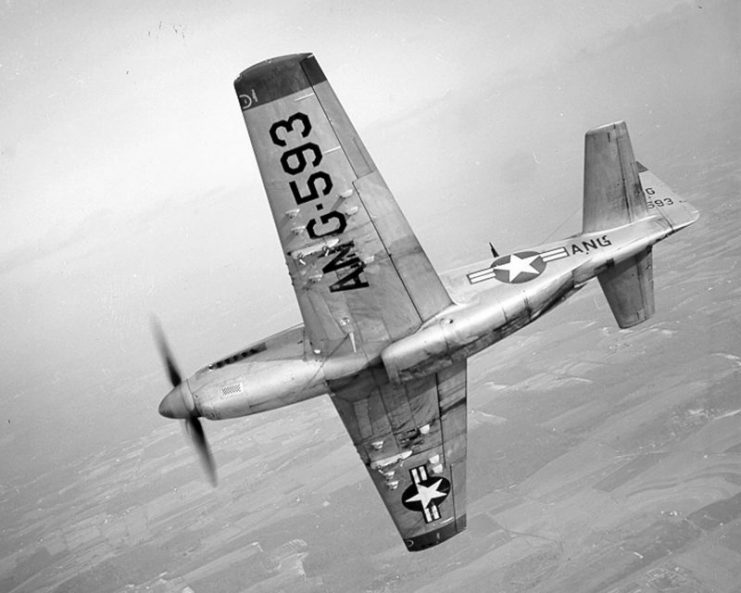 Details:
Material: Plastic
Plastic Type: ABS
Warning: Choking Hazard
Scale: 1:48
Vehicle: Airplanes
Age Range: > 6 years old
Model: P51 Mustang Fighter
Type: Fighter
CHOKING HAZARD: All of our figurines are for Adult Collectors and not suitable for children under 15 years of age. They may contain sharp points, small parts that are choking hazards, and other elements not for children under 3 years of age.

Thank you for choosing gearmeeup - We are here for you!
Enter your order number and email below to track your order's shipping status.
Please allow 3-7 business days for the tracking to be updated by the courier.
Due to holiday seasons and high demand please allow 2-4 weeks for delivery.

If you have any questions please contact us at support@gearmeeup.ca
Or  contact us on our facebook page.
We ship worldwide. We take about 3-5 business days to create apparel products (t-shirts, Leggings etc.) and 3-5 business days for non-apparel products (posters, etc.). Then you should add shipping times on top of that. Speed also depends on product type and destination.
97.66% of our orders are shipped within 5 business days. More than a half of our orders are shipped within 3 business days or less.
Orders are not shipped or delivered on weekends or holidays.
If we are experiencing a high volume of orders, shipments may be delayed by a few days. Please allow additional days in transit for delivery. If there will be a significant delay in shipment of your order, we will contact you via email.
Note for taxes:
For most of the countries, our customers do not need to pay for importing fees, duties or VAT (Valued Additional Tax). However, for some limited countries (especially for some European countries such as Germany, Italy, UK, etc.) may need to pay duties or VAT according to your countries' levying rules.
If you have any further questions, please contact our customer services at support@gearmeeup.ca.
Related Products
From this Collection